CLASSROOMS
We have 3 classrooms: Red Room, Blue Room and Yellow Room. Each classroom is lead by a fully qualified teacher and has the support of an aide; this brings our teacher to student ratio to 6:1. Our smaller ratios give students more one-on-one time with their teachers.
Teachers lesson plan around monthly themes that help expose students to various topics and learning concepts. Offering planned activities will allow students to practice and develop skills through a hands-on approach.
Every classroom is set up with different areas that allow children to explore and make their own choices. Everything they need is accessible at their level; this provides our students with the opportunity to gain independence skills and build their self-confidence.
Each classroom is also unique and offers students their own circle time routines, play areas and activities.
The Red Room and Blue Room both split their time between a 2-day and 3-day class.
The Yellow Room is a 5-day program for children who missed the cut off age for kindergarten; this class can expand on concepts and put more time into kindergarten readiness.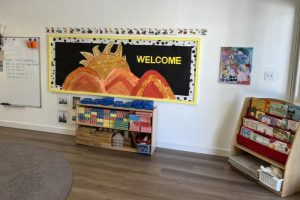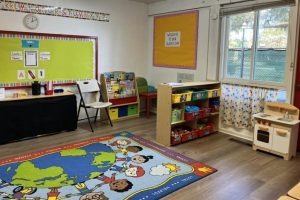 Check out Discovery Preschool
Interested in scheduling a tour and learning more about our program?